Episodes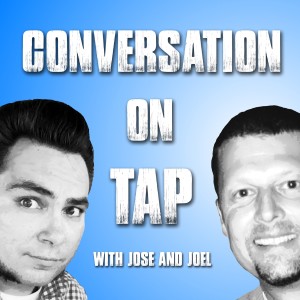 Sunday Jul 26, 2020
Sunday Jul 26, 2020
Welcome back to Conversation on Tap! 
In this episode, Jose interviewed Paul Fahey, a contributor to Where Peter Is. For the intro and outro, Jose is joined by his lovely wife Christina! 
But, first, Jose and Christina celebrate the joyous return of Figueroa Mountain Brewing Company's Lizard's Mouth, which has 9% alcohol by volume.  
For their FRED Talks, Jose talked about predestination, while Christina talked about the Glee curse.
In the main segment, Jose was joined by Paul Fahey to discuss Pope Francis, particularly his book The Name of God is Mercy. They spend the bulk of their time talking about what Pope Francis means by mercy, as well as the misconceptions his critics have about mercy in general. They refer to parables, such as the lost sheep and the prodigal son, to drive the point home. It's an engaging conversation between two people who have a lot of admiration for Pope Francis.
In the final segment, Jose and Christina talked about what they have been watching: Jose talked about Down to Earth, a docu-series on Netflix, while Christina gushed about the new Iration album .
That's all for this week, but keep up with the Podcast by following us on Facebook, Twitter, and Instagram.