Episodes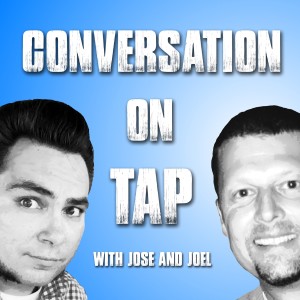 Thursday Jul 02, 2020
Thursday Jul 02, 2020
Welcome back to Conversation on Tap! 
In this episode, Jose continues his discussion with Sam Rocha, an associate professor at the University of British Columbia, in Vancouver, Canada, to discuss socialism and his recent debate against Trent Horn on Catholic Answers. For the intro and outro, Jose is joined by his wife Christina. 
But, first, Jose and Christina chat about the delicious Guinness Extra Stout that they yummily swallowed.
For their FRED Talks, Jose talked about the hideous Abby Johnson video entitled "My Biracial Boy," and Christina talked about how she has learned so much from Emmanuel Acho's YouTube series "Uncomfortable Conversations With a Black Man."
In the main segment, Jose is joined by Sam Rocha to discuss socialism. The conversation begins with a discussion about capitalism; Sam is quite charitable with his capitalist interlocutors. We then move into a discussion about how the Affordable Care Act-- also known as ObamaCare-- isn't actually socialism at all, despite critics' claims. This moves into a discussion about Black Lives Matter and racism in our country. We also take some time to discuss how socialism actually plays out in capitalist countries around the world through welfare programs and social safety nets. Jose then asks Sam if the term "socialist" is even worth using in our time due to the negative connotations Americans reflexively hold. As we began to wind down the conversation, Sam reflected on the Magnificat, Mary's radical prayer of confronting power in this world. The episode ended with a beautiful and deeply personal connection for Sam to a previous debate he participated in at Wabash College. This was definitely an awesome discussion, in its truest sense.
We are also grateful that Sam gave us permission to use his music in this episode and in the previous episode, too. Check out his YouTube Channel for more of his great music!
In the final segment, Jose and Christina talked about how they have been watching the Netflix show The Floor is Lava. It is a fun, family show!
That's all for this week, but keep up with the Podcast by following us on Facebook, Twitter, and Instagram. 
Cheers!