Episodes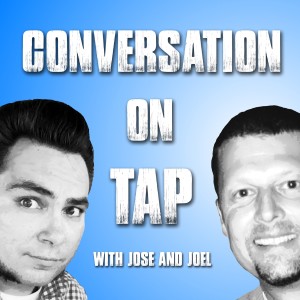 Thursday Jun 25, 2020
Thursday Jun 25, 2020
In this episode, Jose is joined by Sam Rocha, an associate professor at the University of British Columbia, in Vancouver, Canada, to discuss socialism and his recent debate against Trent Horn on Catholic Answers. For the intro and outro, Jose is joined by his wife Christina. 
But, first, Jose and Christina chat about what they are drinking: Christina was drinking the delicious chai tea from Trader Joe's, while Jose had a Cabernet Sauvignon from JLohr.
For their FRED Talks, Jose talked about the Americanism heresy, and Christina talked about the firing of several cast members on Bravo's Vanderpump Rules for racist behavior.
In the main segment, Jose is joined by Sam Rocha to discuss socialism. The conversation begins with a discussion about how Sam made his way from Texas to Vancouver, as well as his love of music. As they moved into their topic, Sam took some time to rebut critics who claimed that he never defined the word "socialism," which he clearly did throughout his arguments, to the point of offering three tangible examples. The two then discuss the actual application of socialism through a discussion of orthopraxy, as well as looking at how socialism has played out in world history, rather than being confined to a pithy definition. As they begin to wrap up part one, Sam juxtaposes socialism against capitalism, particularly from a biblical perspective.
In the final segment, Jose and Christina talked about how they have been watching the Netflix show The Politician. 
That's all for this week, but keep up with the Podcast by following us on Facebook, Twitter, and Instagram. 
Cheers!